Criminal Defense in Chandler
Defending Against Serious Criminal Charges
Being arrested or charged with a crime is a serious matter; you need a skilled criminal defense attorney who can not only explain your charges and your rights but also develop an innovative and aggressive legal strategy on your behalf. At Jacobo Law Firm, PLLC, we have helped thousands of people from all walks of life successfully navigate the criminal justice system. As a small, local firm, we offer a high level of personal attention and direct attorney communication you simply cannot find at other law offices. When you choose Jacobo Law Firm, PLLC, you receive the dedicated defense you need from a team that knows how to aggressively advocate for your rights, your freedom, and your future.
Led by founding attorney, Manny A. Jacobo, we bring more than 16 years of experience to our practice. Attorney Jacobo's past experience as a prosecutor affords him a unique understanding of how the other side operates, as well as the lengths they will go to in order to secure a conviction. He utilizes this knowledge to stay one step ahead, anticipating the prosecution's next move and building persuasive cases based on critical evidence.
As your legal team, we are ready to go the extra mile for you. If you or someone you love is facing criminal charges, you should take immediate action. Contact our Chandler criminal defense attorney to learn how we can help you during a free and confidential consultation.
You can reach us online or by phone at (480) 470-0823. We proudly serve all of Maricopa County and the surrounding areas. Se habla español.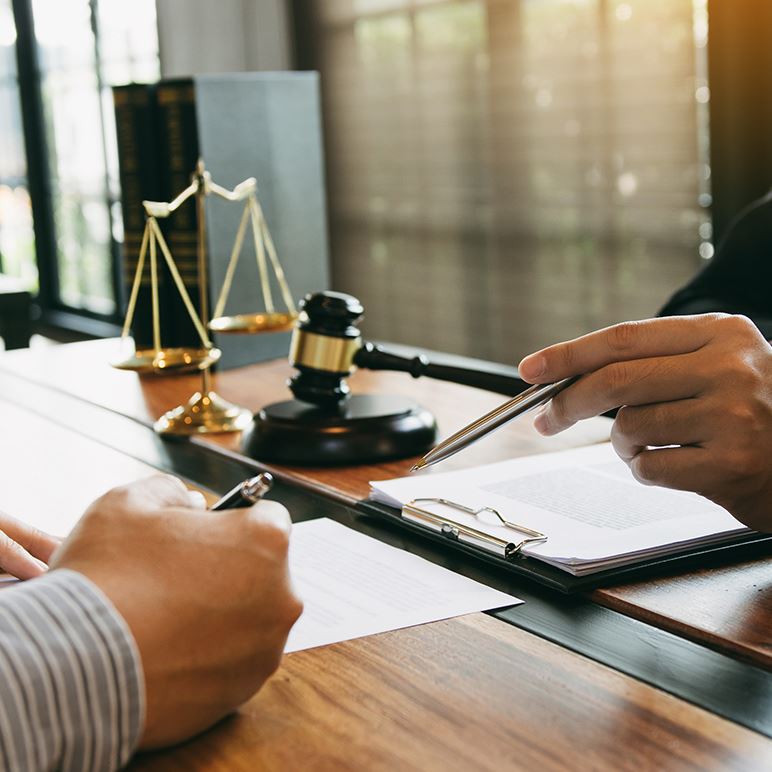 Our Services
How We Can Help You
Types of Cases We Handle
We are adept at handling all types of criminal matters, including highly complex and serious cases. Attorney Jacobo has successfully defended clients against misdemeanor and felony charges, often securing case dismissals, reduced charges, and acquittals.
Our areas of focus include cases involving driving under the influence of alcohol/drugs (DUI), including first-time and repeat offenders, DUI with injuries, and DUI with high blood alcohol concentrations (BACs). We also defend clients against a variety of drug charges, such as illegal possession of a controlled substance, drug trafficking, drug manufacturing, and illegal sale or distribution of illicit substances.
We have extensive experience handling a wide variety of violent crime cases, including those involving domestic violence, assault, manslaughter, kidnapping, sexual assault, rape, and murder. We understand the complexity of these cases, as well as the many issues surrounding them, and we know how to aggressively defend you against even the harshest of criminal charges.
"I would highly recommend if you need an honest trustworthy criminal defense lawyer."

One of the best experiences with a lawyer. He takes the time to make sure you are in the loop at all times, very proficient and productive. I would highly recommend if you need an honest trustworthy criminal defense lawyer.

- Adrian

"Worth every penny"

Exceptional professional, knowledgeable. He helped me through my case and worked out a very reasonable plan for my situation. Worth every penny.

- Austin W.

"He put me at ease"

Manny helped me out of a nightmare legal situation. Manny walked me through the entire legal process, he put me at ease. He is a great lawyer and I would recommend him highly to any family member of friend in need of legal counsel.

- Luis G.

"He will guide you and make things easier"

One of the best law firms in the valley. He will guide you and make things easier in all phases of the case, right from discovery to disposition. He will always ensure you are happy with the outcome of the case.

- Vajeed M.

"Would recommend"

Good outcome, would recommend Jacobo Law Firm to friends and family!

- Elizabeth L.
Defending Your Rights Against Criminal Charges
When your future is on the line, we're here to help. Contact us today.
Why You Need a Criminal Defense Attorney
When you are investigated for a crime, arrested, or charged with any type of offense, you have the right to an attorney—and we strongly recommend that you exercise this right. Although you can defend yourself, this is seldom advised.
Most people don't have an in-depth understanding of the criminal justice system, but an attorney does. A criminal defense attorney not only knows how the process works but also what options are available to you when it comes to defending against serious charges.
At Jacobo Law Firm, PLLC, our Chandler criminal defense attorney can help you by:
Explaining your charges and laying out your various defense options
Protecting your rights throughout the legal process
Researching the facts of your case
Investigating the circumstances of your arrest
Determining whether law enforcement violated your rights
Formulating a plea on your behalf
Filing motions for suppression of evidence (if appropriate)
Negotiating deals with the prosecution, such as reduced charges or sentencing
Negotiating for reduced bail (if applicable and appropriate)
Interviewing and examining witnesses
Gathering evidence in support of your defense
Explaining the possible penalties you face, as well as the consequences of those penalties
Appealing a conviction (if necessary)
We are here to answer your questions and address any concerns you may have. Our team is available 24/7 to take your call, and we will always provide honest, straightforward counsel regarding your charges, the possible penalties, and the likelihood of a conviction.
Every situation is different, so we encourage you to reach out to our firm right away to discuss your unique case with our Chandler criminal defense lawyer. The sooner you contact Jacobo Law Firm, PLLC, the better. We are ready to begin immediately developing a legal strategy based on the specifics of your situation. Get in touch with us today to learn more.
To request a no-cost consultation, call (480) 470-0823or contact us online using the secure form here on our website.